Low Vision Clinics
---
Low Vision Clinics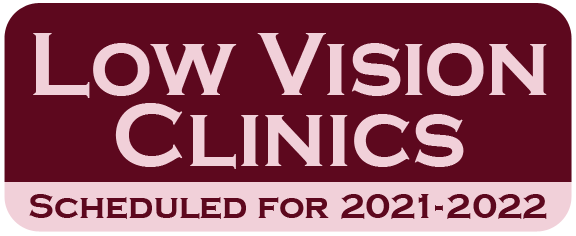 The New Mexico School for the Blind and Visually Impaired offers free low vision evaluations to infants, toddlers and students throughout New Mexico through its Access to Learning Low Vision Clinic. The mobile clinic travels throughout the state and offers a special medical examination to determine if a student's visual abilities can be improved. At the Low Vision Clinic, a doctor of optometry who has received specialized training in working with students with low vision will measure how well the student sees and will determine whether any low vision devices might improve visual functioning.
This clinic is different from a typical eye exam in several ways. Medical personnel, a student's family and teacher of the visually impaired will all confer throughout the evaluation. Functional vision as well as the medical eye exam; the goals a student and family have for themselves; reading medium and speeds become part of the assessment process. Therefore, the length of the Low Vision Clinic visit will vary greatly, depending on the age of the student and individual needs, as well as the extent of follow-up trial with devices provided. Expect to spend one to three hours at the clinic.
A summary report of findings will be sent to the student's parents and the student's TVI. Follow-up services will be planned as appropriate. The results from the Low Vision Clinic can be included as an essential component in the process of identifying the needs and outcomes for students who have low vision.
Clinic Schedule for 2022-2023 School Year:

9/28/22 ~ Albuquerque
10/19/22 ~ Albuquerque
11/16/22 ~ Roswell
1/25/23-1/26/23 ~ Las Cruces
3/15/23 ~ Albuquerque
3/29/23 ~ Roswell
2/19/23 ~ Albuquerque
Farmington ~ TBD
Farmington ~ TBD

Registration for Low Vision Clinic

It is never too early to register a student! As soon as you can verify with the parents/responsible party that the student will be able to attend, please call to sign up. Clinics fill up quickly.Review your caseloads to consider students who need follow-up appointments. All forms can be found on the NMSBVI website. From the homepage, choose "Training & Education." Scroll down to Low Vision and click the link for "more information." Paperwork is available in English and Spanish. Assistive Technology help will be available at each clinic.

• Paperwork is due four weeks prior to the clinic date.
• Scheduling is not done until the packet is completed and returned.
• LVC What is It? Who Needs It?
• Reasons for Students to be Seen at the Low Vision Clinic
• Considerations for a Child Who Has Multiple Disabilities..Will a Visit to the LVC Be Beneficial?
• Referral Process for NMSBVI LVC Clinic Evaluation

Downloadable Registration Forms (English):
• Consent Form (English)
• Parent/Guardian Pre-Exam (English)
• TVI Checklist (English)
• TVI Pre-Exam (English)
• Privacy Policy (English)
• Student Pre-Exam (English)

Downloadable Registration Forms (En Español):
• Consent Form (Spanish)
• Parent/Guardian Pre-Exam (Spanish)
• Student Pre-Exam (Spanish)
• Privacy Policy (Spanish)
• LVC What is it? Who Needs it? (Spanish)
Downloadable Registration Forms (En Español):
• Low Vision Clinic TriFolds PDF Format
• Low Vision Clinic TriFolds MS Word Format

For additional information about the Low Vision Clinic or Low Vision Services, please contact:

Margaret Hidalgo
Low Vision Clinic Consultant
Phone: (575) 415-6044
Mobile: 505-350-3292
Margaret Hidalgo

Or:

Angela Harris
Outreach Dept. Administrative Assistant
Phone: 575-439-4431
Fax: 575-439-4454
Angela Harris


For more information, please contact:
Julie Johnson at 575-439-4432 or Email: Julie Johnson

---